If you ever find yourself locked out of your car in Los Angeles, don't despair, we have an automotive locksmith near you for cars available 24/7 to help you get back on the road as soon as possible. Losing car keys can be a very frustrating experience. It can be a major disturbance to anybody. Your wallet may hurt as a result. Car key replacement service very many times can be quite costly. Everybody knows how expensive dealership car key replacement prices can be. The costs of vehicle towing can add up as well. Anyone can lose their cool during a situation like this.
If you are looking for an affordable Los Angeles locksmith that will fill all your car key replacement needs, you are in the right place. NELA Locksmith is a company that will arrive to your location and solve all of your lock and key problems. We are a local licensed and insured company that is open 24/7. Because of this you can depend on us to be available to help you whenever you need it. It is not easy to find an honest and trustworthy locksmith. Many locksmith companies charge too much money. There exists companies that will charge you top dollar for low-quality work. There are companies that do not treat their customers respectfully, here is an example
Don't waste your hard earned money and valuable time on these companies. NELA Locksmith is an honest local family business that you can trust. If you are looking for a locksmith in Los Angeles that will actually want to help you then reach out to us and schedule an appointment.
Reliable Car Locksmith in Los Angeles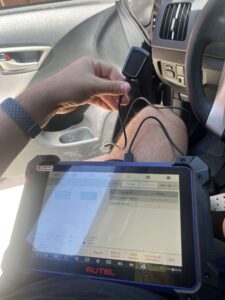 If you need an Automotive or Car Locksmith near you in Los Angeles we will be able to help you. Because we are local and family-owned, you can rest assured that you will be paying lower prices. Other locksmith technicians from bigger companies work on commission. This means that to make money they have to charge you more money. NELA is a Los Angeles Locksmith company that is run by two brothers. We have been in business since 2019 and we are already highly rated and continue to grow. We have lots of experience in the mobile locksmith Los Angeles industry and will be able to have somebody reputable do the job for you.
If you ever find yourself locked out of your car, don't worry. NELA Locksmith provides a 24-hour car locksmith in Los Angeles who will be there to help get you back on the road in no time. Our fast and reliable services are available all day, every day, so never fear if you find yourself locked out of your car in the middle of the night – we can be there quickly with the solutions you need.
With NELA's locksmith near me for cars service in Los Angeles, you can expect top-notch services that focus on your individual needs. We have the tools and experience necessary to create new keys, open and reprogram transponder keys, and even replace ignition cylinders. With our cutting-edge technology, we can work quickly yet accurately to get you back inside your vehicle as fast as possible. So whether it's a key issue or a faulty lock, trust the dedicated team at NELA Locksmith for all of your auto or car locksmith needs in Los Angeles.
We always have a locksmith near you for cars providing these services:
-Lost Car key replacement
-Vehicle lockout service
-Trunk lockout service
-Transponder key programming
-Car key duplication
-Car Key remote programming
-24 hour service
-Smart keys Programming
-Car Locks Repair
-Transponder keys
-Key Fobs
When you need any of these services, NELA Locksmith is ready to help you.
We will provide Los Angeles residents with the fastest automotive mobile locksmith service available. Having the phone number of a good locksmith is always important. If you have an emergency a mobile locksmith can travel to your location and provide service right away. It can provide a lot of peace of mind. You never think you are going to need a locksmith until you do. That is why it is good to be prepared. Mobile services can save you money on towing. Our mission is to always provide friendly, affordable mobile locksmith service to Los Angeles residents. Don't be unprepared. Save our number today and when you are ready call us to find out about our automotive service.
Auto Locksmith in Los Angeles that is dependable
Hiring a dependable and knowledgeable auto locksmith for cars near you is important. NELA Locksmith has all the qualifications including licensing, insurance, and proper equipment. We are professionals who can ease your stress and have lots of training. NELA has worked with many people all over the city that have varying degrees of urgent emergencies and know how to handle all of them efficiently. We know that locksmith emergencies can be stressful. Your safety and security is our top priority. However it is up to you to choose a locksmith that's experienced, licensed, and insured. That's who we are, save our number and don't make the mistake of calling other locksmiths who are not licensed. It can be a regrettable and frustrating experience.
When you're in need of security and fast service, certified car locksmiths near you are your best bet. Our 24-hour mobile locksmith services ensure that you can get back on the road with minimal delay. At NELA Locksmith Los Angeles, we only employ technicians who have current certifications in auto lock services and have passed stringent background checks. We guarantee that all of our work is done securely, quickly and at an affordable price.
An Emergency Automotive Locksmith Los Angeles Can Bank On
When you're looking to book time with an auto locksmith Los Angeles, NELA is the right contact. Our technicians know how frustrating lost car keys can be. They know how stressful stolen car keys can be. When you have an urgent car key emergency, reaching out to NELA is the smartest solution. The auto locksmiths we have are at your disposal to provide the quickest and affordable car key replacement solution. Your car key replacement will be better than your old one. There is no better place to get a car key replacement. That is because our technicians are car key replacement magicians.
When you need an emergency certified locksmith near me for cars, you want to make sure that you have a reliable locksmith as soon as possible. We always arrive ready to help you with anything. If you call us because you are locked out and discover that you need to re-key your apartment because of a security issue, don't worry. We can help you with that too. Our technicians have the tools to take care of any job and always have fully stocked inventory to take care of any problem.
A locksmith company that is affordable, reliable, honest, local and open 24/7 is priceless. Automotive Locksmith emergencies happen in Los Angeles all the time. If you ever require urgent car key replacement call us. We will be sure to help you find the most affordable car key replacement solution that is right for you. Don't get taken advantage of by disreputable locksmiths or pay too much at the dealership.
Don't wait, call our business today
If you need car key replacement los angeles call NELA today. We have auto locksmith technicians on stand-by ready to help you. We are friendly and professional. You can feel at ease and ask any questions you may have. Our knowledgeable staff will suggest the best solution for you. Call today to find out just how affordable our car key replacement solution is for you. Don't pay too much at the dealership, book an appointment today.